Hello everybody, I'm Yakisoba and welcome to this blog post!
Honestly, I wanted to do a unboxing post, but today, finally, I got my Amazon package! Yay!
The reason why it's here instead of KanaeruChop is because it has to do with KMB and Kagaku. Simple and easy!
But anyways, now onto the story:
So I have been a Manga Time Kirara fan for months now. Reading the mangas and watching the animes have made me quite a big fan of them. Specially Kirara Carat. If  Spring Ephemeral never existed, I wouldn't be buyfagging Kirara magazines and tankoubons. It's thanks to them and A-Channel why I ended in the slippery slope.
Fast foward to August 29th (the day this was written)
I got a package directly from Amazon Japan!
So the prices of shipping from Japan to Peru are high. First of all, the parcel goes abroad once it gets to Tokyo. Tokyo and Rio de Janeiro (Brazil) are nearly antipodes. Brazil is just east of Peru. Then remember I haven't used a proxy and because of that they forced me DHL.
It all adds up….
And that's why I'm not using Amazon for my next purchases anymore. At least without proxies.
As the picture below tells you, this box has a pretty good number of manga inside it. Various volumes and a magazine, that's it.
Opening up the box, we get the combination of the first 3 volumes of Kagaku Chop and a issue of Kirara Carat (don't worry, it has KMB on it. You will see it later).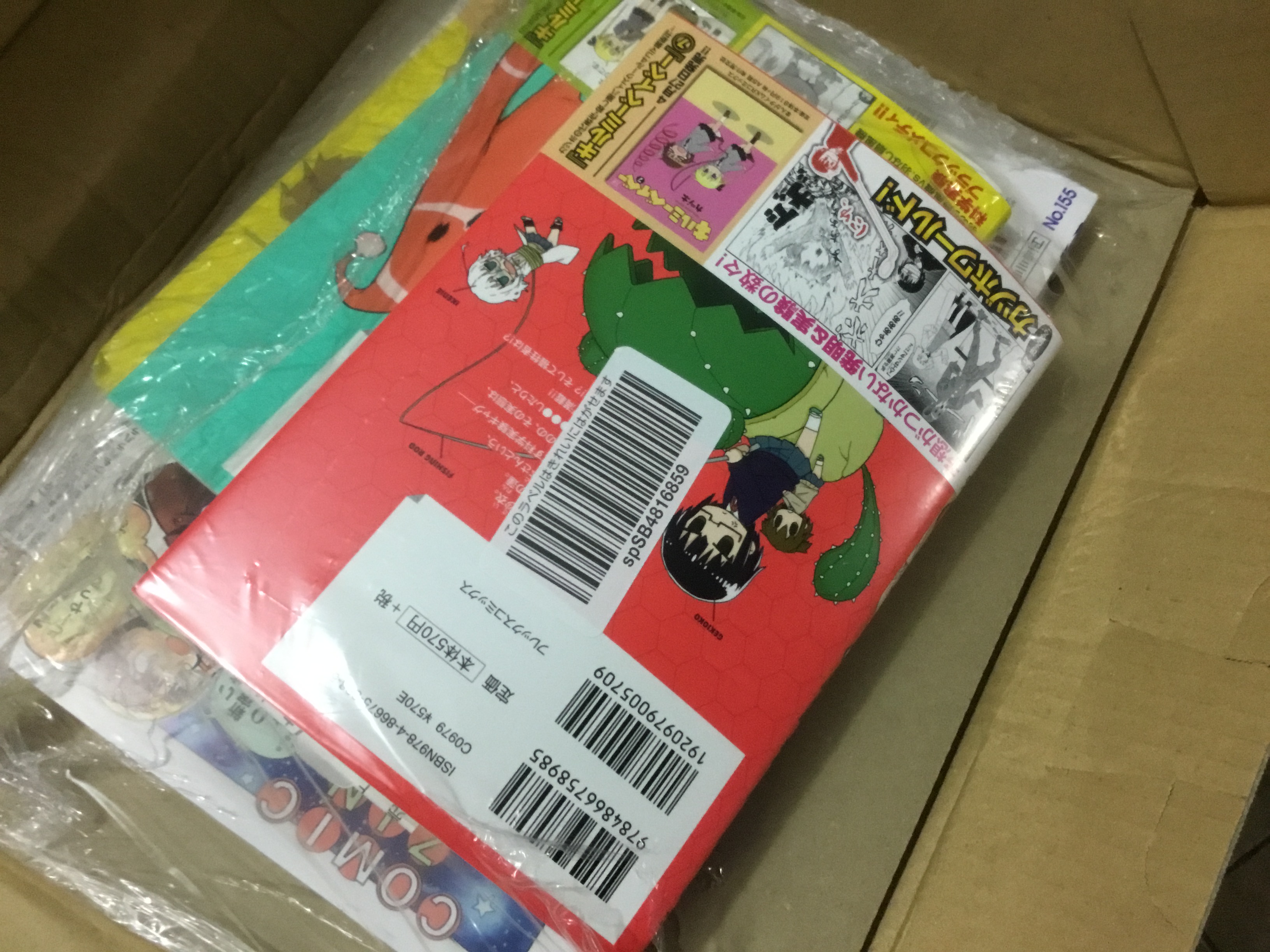 The first thing I decided to look at were the Kagaku Volumes. From what I have saw in the pages, KGK tanks are printed in what seems to be barely thicker than office paper. With the first pages of the first volume being outright newspaper.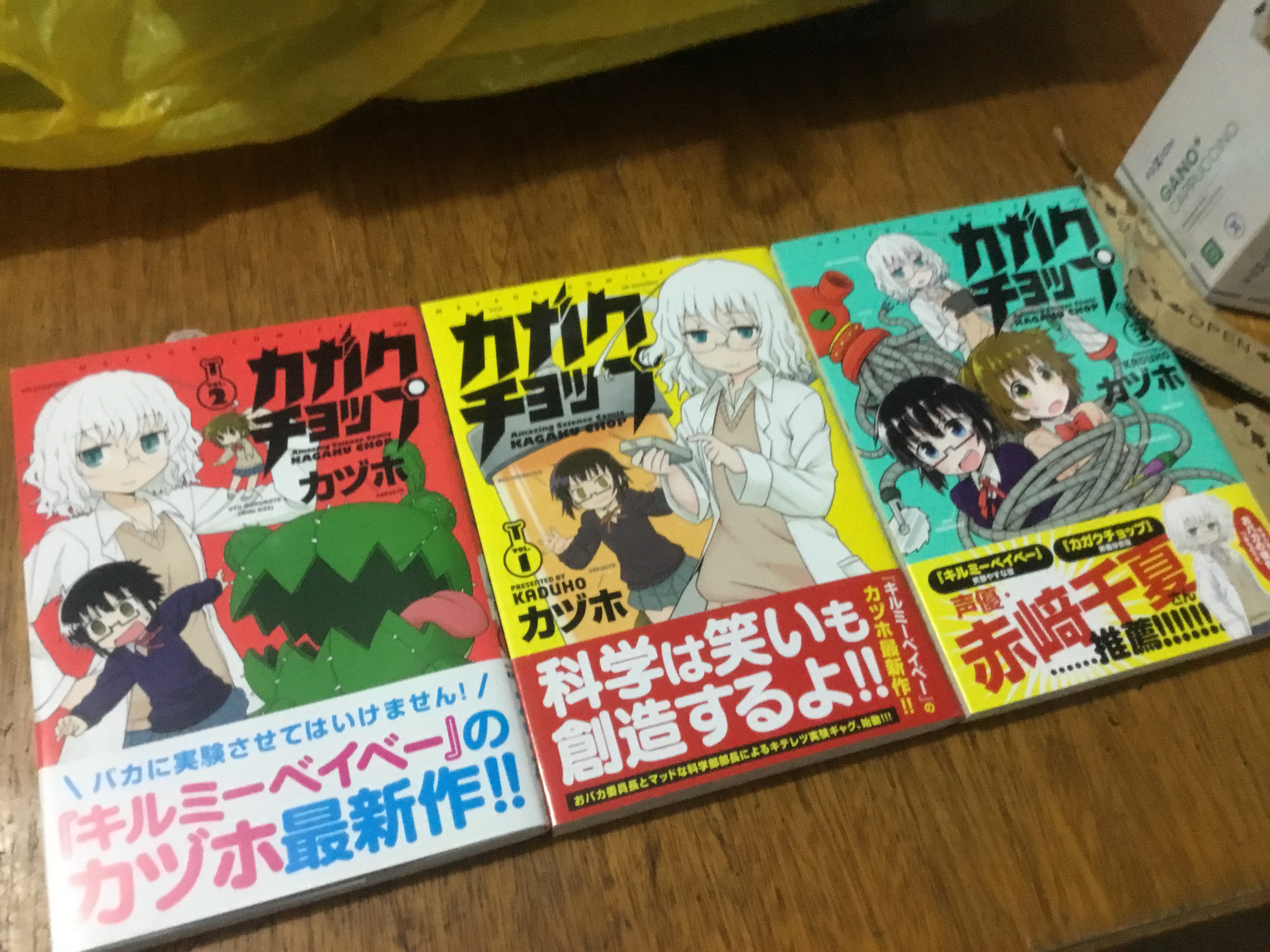 When I used Amazon's very vague useful and detailed tracking system, they told me the order wouldn't ship until September 3rd. Then the 5th volume was announced.              It's Amazon and DHL magic indeed.
Now onto the magazine!
I personally had 2018-07 and 08 before getting 09. I originally wanted to buy them because 2018-07 had both A-Channel and KMB colorpages (and don't forget the cover, it's one of my favorites now) and, after that, I decided to use 2018-08 because it was cheaper than another volume of manga + it still had KMB.
I know, I'm one issue behind. But remember, I don't live in the US; Britain or any other "1st World" country. I live in Peru, a pretty much 3rd world country where I can barely get to eat something good after buying anime and manga related stuff.
Anyways, I have readed from it the series that I follow, including KMB of course.        Here's a sneak peek (or do I have to say, spoiler) of the (as of writing) newest chapter because 2018-10 has hiatus:
Decided to keep it simple so I didn't spoil it hard (*cough cough* Infinity War *cough cough*)
But anyways, my plan with the raws is to collect and scan them. The latter one mostly applies to the magazines, as I only need the covers for the volumes unless the group can't get public raws and the digital raw provider dies. New issues aside, I also want to own the older ones with KMB color pages; as according to _Maki from DKThias:
These magazines won't stay on the Internet stores forever, and with them gone, so will be the color pages. – _Maki, November 20th of 2012.
It's my mission to create a complete collection of the Kill Me Baby manga as a legacy to be known to the entire fandom, no matter if it takes 1 or 10 years to complete after finishing the magazine version of the very last chapter. I'll get many new friends, people will join, people will leave, side projects will appear; but once Kill Me Baby (and Kagaku Chop, and possibly everything done by or related to Kaduho in general) is finished, the group will disband. Not once we catch up to Japan, not until the last serialized chapter is released, the group will try it's best to stay afloat and survive the test of time until every single thing related to KMB and KGK is done. At that moment the group may not even be a literal group, as I might be N1 in Japanese and possibly the best at editing too…
TL;DR: It will be a long journey. I'm looking foward to the moment where I leave the scanlation world and leave a legendary legacy of giving KMB and Kagaku 100.0% completion via scanning and translating the most things possible.
Thanks to everybody who has readed this long, long blog post and also to everybody who just went ahead to see the (shitty) pictures I took. Also appreciation to my customs office, for not murdering my wallet and allowing the parcel to go directly home.
Goodbye!